We first tried this "questions" idea before the last major and look what happened; Phil Mickelson shot a historic final round 66 to become the Open Champion of the Year. Coincidence? Well, maybe but hey, we're 1-for-1!
Anyway, here we are just three weeks later, getting ready for another major, Glory's Last Shot, or as we like to call it just an exciting week of golf action.
We've got so many storylines and we've whittled them down into our top 4 topics for the 4th major. Here we go:
1. Will Mickelson Make It Back-to-Back Major Wins?
Yes, please. After going 2, 3, 4, 3, 4, 3 for four birdies over his final six holes, Mickelson left with a career-defining win and one of the best Sunday performances in major championship history. We got to enjoy the fruits of his labor back at Callaway HQ as Phil popped in for a surprise visit a few days later to say thanks to all of us.
We had so much fun sharing in the occasion and it's hard to believe the final major is already here. But when you're as hot as Phil has been this summer (back-to-back wins in Scotland, two runner-up finishes in June, up to No. 2 in the world) these tournaments probably can't come around fast enough.
Another major win would get him to six total and push him even higher up the ladder among golf's all-time champions. Go get 'em, Phil, and good luck to all of our Staff Pros in the field this week!
2. What are the most important clubs for this week?
This major is being played at an "old school" type of track where hitting the fairway is a must for good scoring. The kicker is that it's a long course too and controlling the ball will be paramount for every player. So what we're saying is, look for X Hot 3Deep and HEX Chrome+ to play a huge role this week!
Our Tour players have been quick to compliment the distance and control they've gotten from a HEX Chrome+, and Gary Woodland called it the best ball he's ever played after his Reno-Tahoe win last week. On a course where the rough is penal and shot-making is so important, this golf ball lets players control the shot shape they went from the tee and up into the green.
As for X Hot 3Deep, well did you see what Phil did with it at the last major? Like the two bombs he hit to get home in two at the Par-5 17th that Sunday, his second shot from 308 into the wind, to essentially lock up the win.
Yeah, he hit both of those shots with X Hot 3Deep. It's going to be a big club once again as players turn to it for penetrating distance and versatility that they can trust on this major layout. FT Optiforce could be a key player as well.
3. What Do You Think Of Our Major Bag and Coin?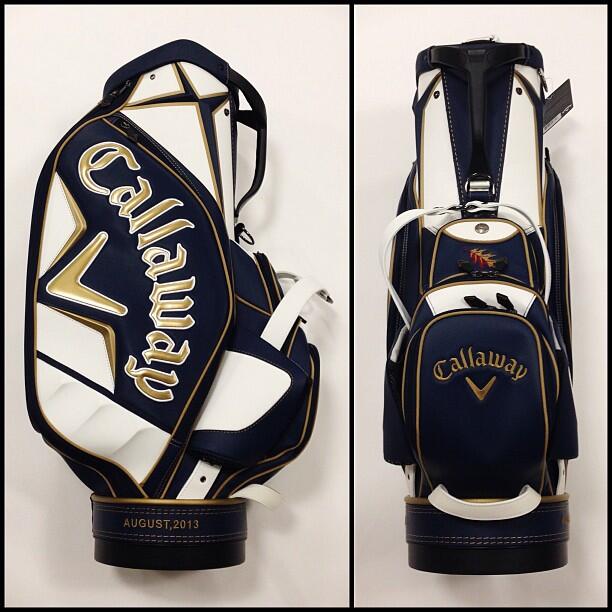 Our design team has outdone themselves at every major this year with the Staff Bags our players use and the commemorative coins for each event. This new bag has a blue, white and gold design that should look great on the course and while you're watching it on TV. From the August 2013 on the base to the stitching and everything else that's gone into it, it's turned out great.
We can't say enough about the commemorative coin as well. It's clean, simple and striking all at once. This is the final addition to our 2013 major championship coin collection, and we could go so far as to say it's our best one yet.
4. Will Odyssey Make It A Perfect 4-for-4 In Major Putter Count Wins
Odyssey deals with the #1 a lot; it's the #1 Putter in Golf, the #1 Putter on Tour, #1 in Tour wins around the world this year, and it's looking to be the #1 Putter at all 4 majors this year.
After winning the count at Augusta, Merion and the third major, Odyssey is looking to make it a clean sweep in 2013.
Versa's big wins and its position as the fastest growing new putter brand on Tour have stood out as some of the world's best players continue to make the switch, while Tank has quickly grown in numbers on Tour.
Versa is still riding high off Woodland's win last week (#1 Wide Black), Phil's major performance (#9 White), and it was the #1 model last week at the WGC-Bridgestone Invitational, where 49 of the top 50 in the world teed it up. We'll see on Thursday if Odyssey completes its own version of the grand slam.
You can get more of the latest insights from Callaway now on our Callaway Media Productions page. Enjoy the golf everyone!